Precision Die & Component Attach
Die & Component Attach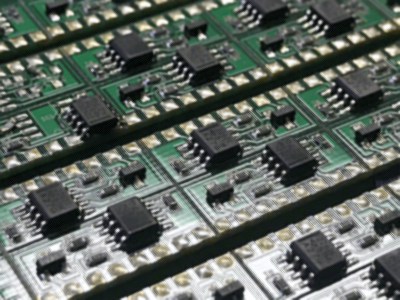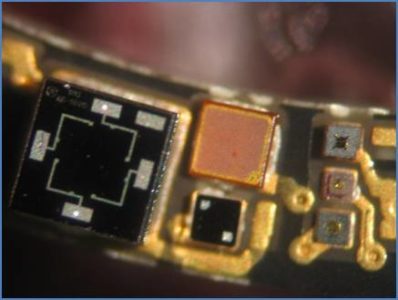 Our die & component attach processes can be done manually by our highly skilled technicians or utilizing our precision placement machines. While our specialty is in R&D work we have the staffing and equipment for small scale production runs as well. Tape & Reel, Waffle Pack, Gel Pack, and Diced Sheets can all be accommodated. We can process Solder, Epoxy, Eutectic, and Flip Chip applications.
Machine processing of die sizes from as small as 0.5mil x 1mil up to 2″ sq with an accuracy of +/- 10 micron
Pick and place die from wafers up to 12″ in diameter, waffle packs, gel packs, or tape & reel.
All surface mounts are completed in compliance with IPC, JEDEC and Military Standards as per requirements.
Solder or Epoxy Attachments
Our staff is experienced in manual dispensing of materials at very fine scales and our equipment is capable of dispensing materials in micro dots for small components or patterns for larger components. We have experience with and can dispense, screen, or stencil many different materials required for the assembly of your product.
Epoxy or flux can be used in dispensing, stamping, or dipping processes. Epoxy bonding can be done using silver filled materials, conductive, non-conductive, or preforms
Eutectic die bonding using high or low temperature alloy preforms or paste
Reflow or curing can be done in oven, vacuum, or belt furnaces up to 600℃
Encapsulation
Encapsulation processes are used to protect fragile die or wire bonds. There are two primary processes used to achieve the encapsulation. Dam and Fill is a precise method of encapsulating high input and output wire bonded die. Without the encapsulation, wire bonds would be exposed and subject to damage, rendering the product useless. Dam and fill is a two-part process consisting of a dam being dispensed first, followed by a fill material. As an alternative to dam and fill, a glob top process can be done. The primary difference between the two processes is that glob top does not utilize a dam, and, therefore, can cover a varying area on the substrate due to material flow. Typically, glob top is used on low cost products and when the wetted area is not critical. Our dispensers are capable of dispensing dots as small as 3 mils in diameter.
We can accommodate up to 18" X 18" and up to 0.100" high with +/- 50 micron of repeatability accuracy in X-Y with our semi-automatic equipment.

Underfill
A gap between the die and substrate after die attachment process can be filled using underfill material to provide mechanical integrity to the entire bonded structure. In some cases underfill also provides a thermal path to dissipate heat from the active die. The underfill is normally electrically non-conductive and thermally conductive.
We offer manual and automatic underfill services.
Minimum 1 mil to maximum 25 mil gap can be filled

Reflow & Curing
Convection ovens for curing of die attach epoxies or for bake out. Some our ovens are programmable for multi stage curing applications.
Vacuum ovens for curing of dam and fill materials to ensure removal of any air pockets.
Belt furnaces for solder reflow up to 400℃ with the option of nitrogen atmosphere
Micro flame reflow for lead attach and other localized low stress applications
Plasma & Solvent Cleanings
We can accommodate various solvent cleaning processes utilizing vapor, heated soak, or ultrasonics. Our plasma cleaner is setup for oxygen or argon use.